6962969664961057
In the world of senses, it seems that chocolates give me a "foretaste" of heaven. A single bite is enough to bring me a burst of energy and a sense of euphoria. My kindred spirit, Dave Barry, has said: "My therapist told me the way to achieve true inner peace is to finish what I start. So far today, I have finished 2 bags of M & M's and a chocolate cake. I feel better already".

Then the occasion came to indulge my appetite for this heavenly sweets. My long-time buddy, Ed Carla, put a good word for this Café-cum-restaurant somewhere along Katipunan road and told me that it is her favorite restaurant. So I hung on to the word "favorite" and checked out the place.
Voila! Café Xocolat turns out to be not your typical café/restaurant. It is homey, literally. It is a preserved house turned into a café. The moment one steps in, one feels in an old friend's house for merienda.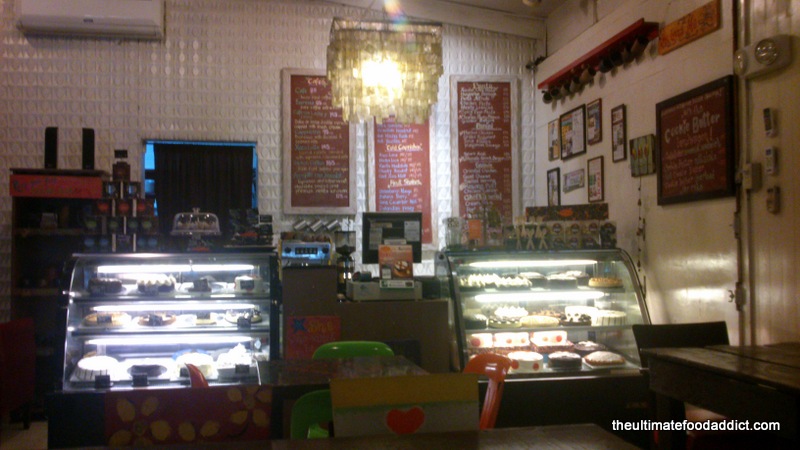 The place rekindled some of my happy childhood memories because the carefully preserved design and interior of the house looked like some of my relatives' houses back in yonder days. It was rather calming to find such place in a busy area where commercial buildings fill the once countrified landscape. I forgot my worries for a while in the comfortable surroundings of the Café which brought back vivid images from the past and I had to be reminded by my companion that we were not in a museum but in a restaurant to eat.
I enjoyed eating here a lot that I couldn't help coming back three more times from my first visit with Ed Carla. I guess that's how much I loved their food that one visit to this homey café certainly was not enough or maybe it was because of the chocolate and maybe it really was that addicting after all.
Café Xocolat is indeed one of those restaurants that truly understands and knows how to give chocolate the justice and the preparation that it deserves.
I am a pasta aficionada a preference that is not lost to my friends, hence, I will start my food review with these delectable fusions.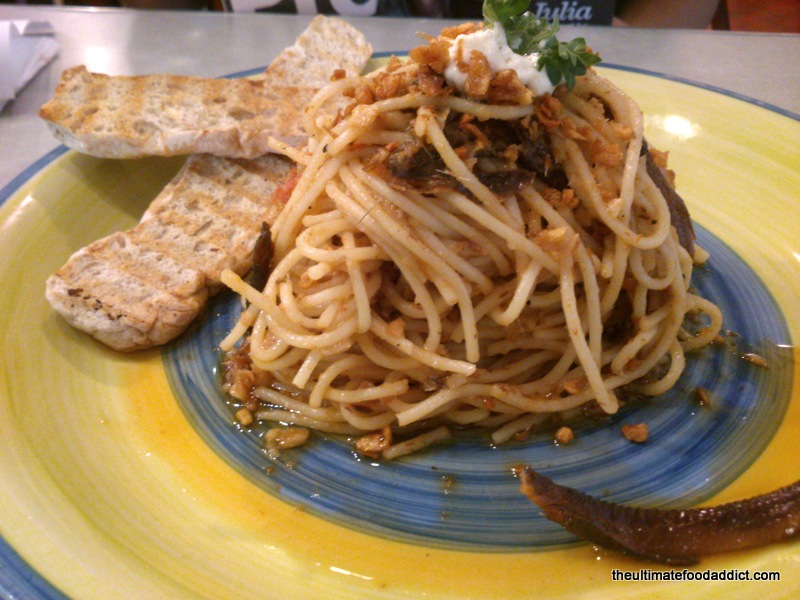 This, my fellow foodies, is Café Xocolat's version of the Spicy Tuyo Pasta. This pasta, I must say, is gaining popularity in a lot of restaurants serving Filipino food and I have no doubt whatsoever why it should. It is flavourful and the natural smoky and salty flavour of the "tuyo" (salted dried fish) is perfect with the starchy taste of the pasta. The spiciness on the other hand neutralizes the overall flavour of the dish which is rather strong for those who are not used to eating tuyo. I can confidently say that this is one of the good Spicy Tuyo Pasta dishes that I have tried.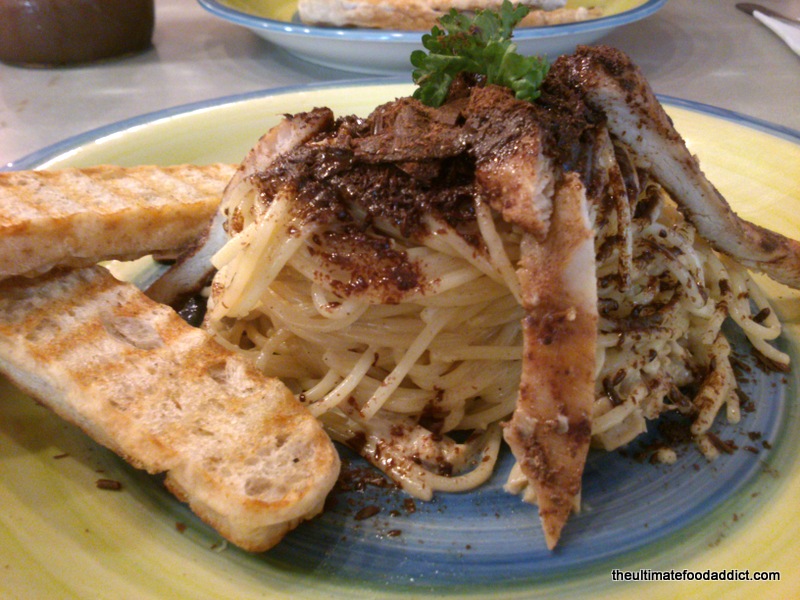 Up next is one of the house specialties – Xocolat Chicken Pasta. It is a spaghetti pasta in white sauce with grilled chicken topped with dark chocolate shavings. It was actually my first time to a the pasta dish with chocolate. I first wondered whether the chocolate would sit well with the whole dish. It turned out to be rather lovely and velvety. Aside from it not being your typical pasta dish, the dark chocolate added a rather unique but a very welcome kick to the dish.
To all rice lovers out there worry you not, because Café Xocolat also whips up creative and savoury rice dishes. This plateful of Pork belly with creamy bagoong sauce, baked potato with cheese and crispy kangkong shavings go together seamlessly. Succulent pork belly, tangy sauce, creamy baked potato – a great play of flavours neutralized perfectly by the light, almost melt-in-your-mouth crispy kangkong shavings.
And can a café truly be without dessert? Of course not! Thus I present to you my top pick of their cakes – "That Xocolat Cake," which is their classic chocolate cake and by far, the best among their offerings. It is downright good and has the right amount of moisture, sweetness and that great chocolatey taste that all chocoholics crave for.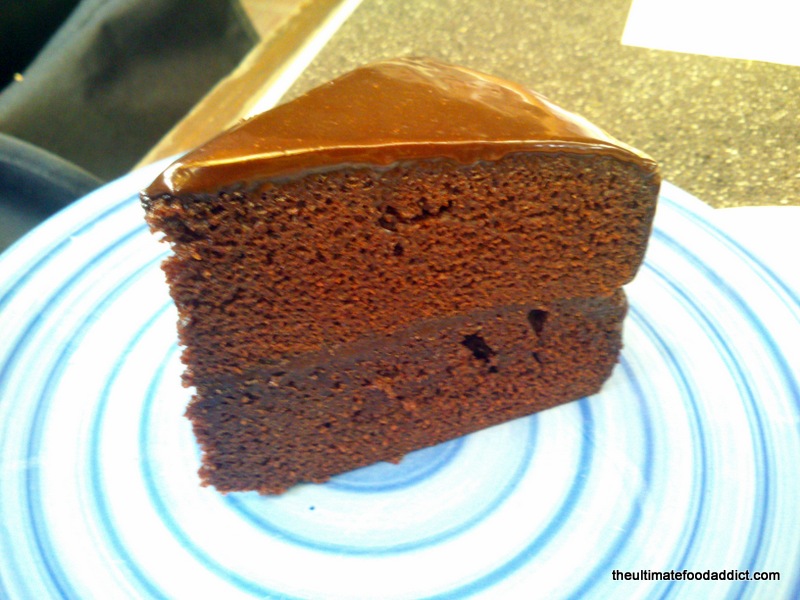 And just when I thought we had enough, our luscious drinks arrived just in time. My friend had one generous serving of Xoco Lava, a malt-blended vanilla ice cream milkshake and for me, a frozen milk tea latte. Both were really refreshing, yummy and quite sinful.
Café Xocolat, by the way is also famous for their rich and sinful drinks. The café is more popular for their hot chocolate drinks and they are one of those restaurants that re-introduced "Tablea" back to the market.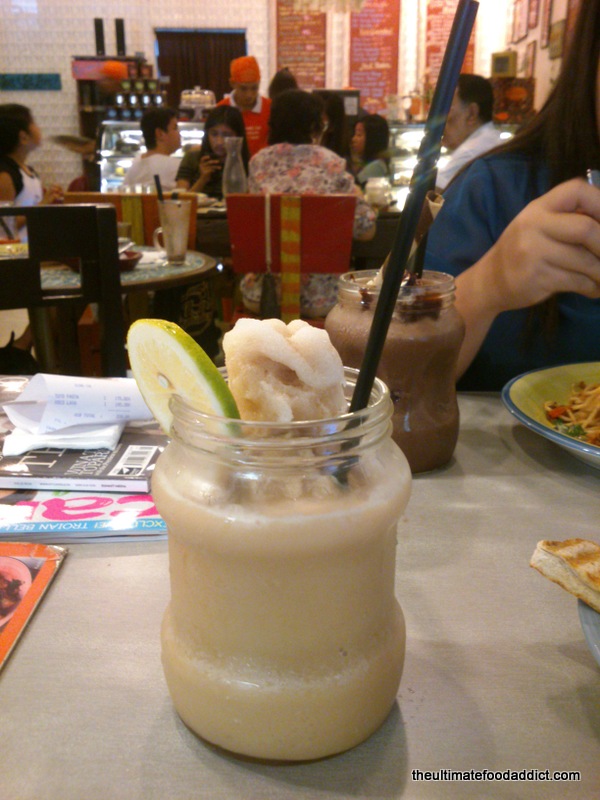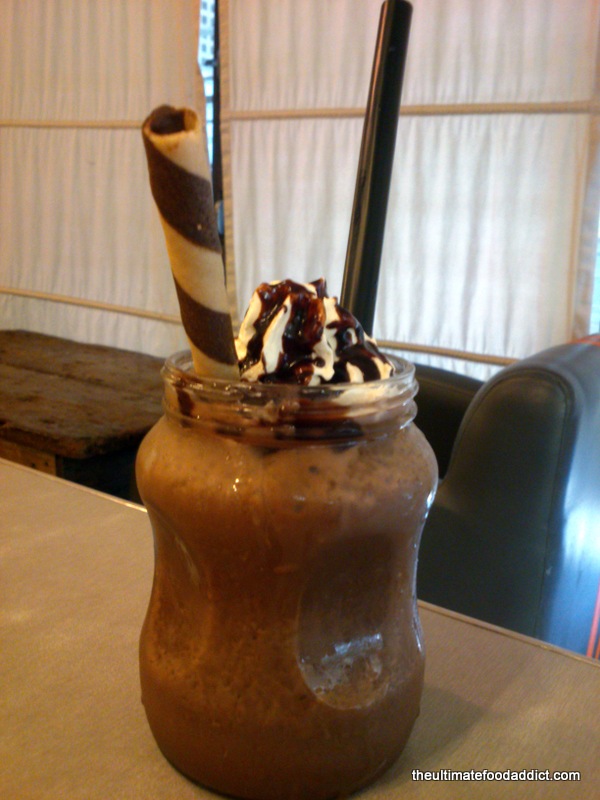 This is one concept that I think is well-thought and nicely executed. I think in the long run, if managed properly, Café Xocolat is here to stay. Where else can you enjoy good food, yummy drinks and a real homey feel? Need we ask for more?
Cafe Xocolat
172 B-Gonzales St., Loyola Heights, Quezon City