6962969664961057
Hi, Foodies! Sorry for my almost a month long hiatus. I have been busy with managing, whatchamacallit— uhhmm, my somewhat crazy schedule. Unfortunately, I don't have time to sort my pics by resto so I will fill you in the bits and pieces of these random food shots. Enjoy! 🙂
Let's start with my favorite food of all time– Inihaw na baboy. (grilled pork) This photo was taken during our last Dahican beach trip. We almost moved heaven and earth just to be able to grill these lovely cuts. After an hour or so of struggle, we were able to set-up a makeshift grill and get the fire going and the meat cooking. End result? Perfect meal to kick-off our vacation.
Before I introduce you to the second dish on this post, allow me to welcome you to my lovely hometown first, Tagum City. For foodies everywhere, I'll fill you in one yummy fact. Tagum City is a city packed with a lot of gastronomic treats. I am proud to say that Filipino cuisine is at its best in this city as it is inhabited by migrants from all over the Philippines. Looking for a particular Filipino dish? ask around (or ask me!) haha
There's a big chance we have it. 🙂
One of my fave food shop in the city is Yuyu. Oh, alright, this is not Filipino but the owner and chef is! haha and a Tagumeño to boot. Yuyu takes the standards of comfort food a notch higher. The Honey Balsamic Chicken is just one of the uber yummy treats offered in Yuyu. Packed with flavor, seasoned generously with honey and balsamic vinegar and then cooked to tummy— yes, tummy perfection. Simply can't get enough. Want a tip? Leave room for dessert so you would be able to try the heavenly cakes and pastries. The praline is superb!
Check out these cake bites. I will name this the Yuyu Confection teaser. 🙂 Everything's delish. My top picks are the praline, red velvet and choco trio. My rave? flavor and happiness in a single bite. 🙂
You have now safely arrived in the Land of Promise, Davao City! (55 km north of Tagum City and 98 km west-south-west from the City of Mati)
Okay, enough with the introduction. I'll now get back to the food. haha
A picture paints a thousand words and with that being said do I still need to say more ? 🙂
You're right, I still do but this will be short.
Beko's Biik (lechon de leche) is one of the most popular lechon in this face of the Philippines. 🙂 It comes in regular and spicy variants. I prefer the spicy one.
One word: Delectable
Next up is my beloved alma mater, UP Diliman. So I guess this time around we went straight up the Philippine map by a whole lot. Let us teleport, just this once, to the home of some of the country's brightest minds and the famous, Mang Larry's Isawan. 🙂
I had a memorable time in this foodie haven and I am proud to say that this plate of simple beauty right here helped me survive college. Nothing beats eating a stick or two of pisbol with school buddies, orgmates and classmates right before or after classes. Some of my most creative ideas and "aha!" moments were from a "pisbol" convo.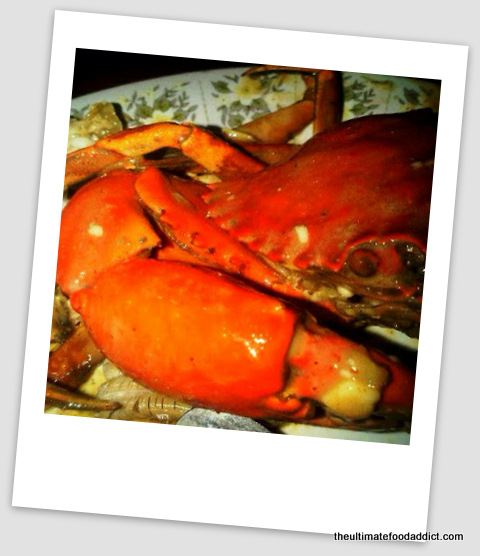 Someone once asked me, what is the most delicious meal you've had and where's the best place to eat? I usually say, that's an easy one and my answer is simply Dad's homemade meals.
Wanna know why? After all the traveling and eating is done, nothing still beats the warmth and comfort of a homemade meal. I always look forward to Dad's delicious creations, be it chopsuey or his famous garlic chili crabs with cheese and butter. His dishes are always oozing with flavour, filled with 'lotsa love and prepared with tremendous care.
Now, tell me, what more could a foodie daughter ask for? 🙂