6962969664961057
Craving for a cup of coffee and a slice of cake? Tara na sa Dumaguete! 🙂
Dumaguete is one of the most beautiful places I have visited. With a beauty so captivating and a scene so serene and relaxing, it is so tempting to let your guard down and just take in everything the place has to offer.
Ok, I admit that this is not the safest thing to do but what the heck, a little spontaneity won't hurt. In fact, it led me to this lovely nook. A nook filled with yummy cakes and pastries perfect for a mid-afternoon coffee or tea. See? Spontaneity ushered me to happiness. haha 🙂
Kidding aside, Sans Rival Cakes and Pastries is one of the highlights of my trip and a discovery that I would love to share to everyone.
Backed up by years of experience and tradition, this pastry shop has been serving delish cakes since 1977. I had a hard time deciding on what to get because everything looked so good and tempting. After a few minutes and countless switches, I finally decided on silvanas, apple pie and coffee. The silvanas was great. It was creamy and had that melt-in-your mouth goodness that I like. The apple pie was delicious too. It had the right amount of filling and just the right amount of sweetness. Both went well with my black coffee, a must for me if I'm having dessert.
So would I leave Dumaguete without another visit to this lovely cafe? Well, you guessed it right. Not a chance. 🙂 I excitedly went back the following day for another dose of happiness.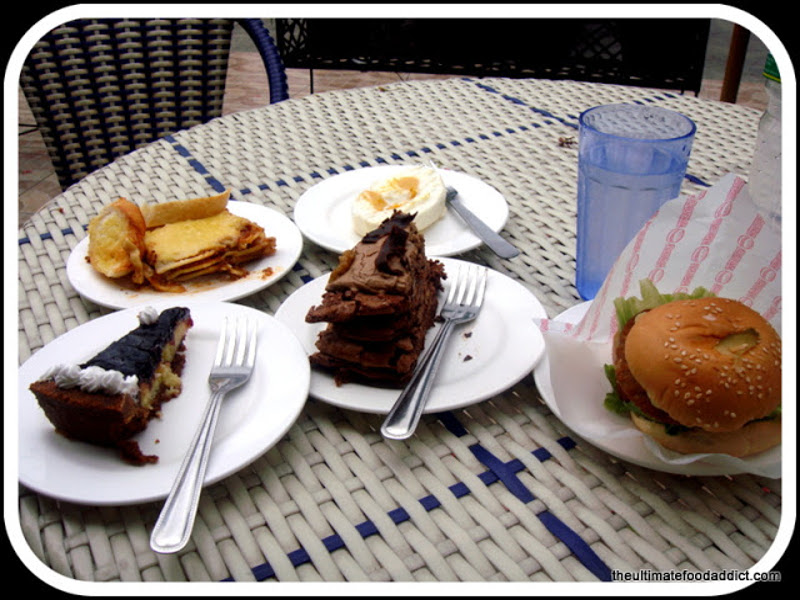 This time, I came in prepared and had room for more food. I was able to satisfy my heart's delight. I tried the cheeseburger and lasagna for merienda. The burger was ok, nothing too special about it. I liked the lasagna better. It was flavorful and cheesy.
For my dessert, I ordered the blueberry cheesecake, date and walnut dacquoise and brazo de mercedes. All three cakes were delicious. The brazo and cheesecake were also rich and filling. Out of the three cakes I ordered, the date and walnut dacquoise topped my list. I loved the texture brought about by the thin layers of meringue, cake and cream plus the nutty flavor of the walnut added an extra oomph that made my fork so hard to put down.
I had a great time here and I encourage everyone to try Sans Rival too whenever in Dumaguete. It's a plus factor that Rizal boulevard is just a few stones' throw away. A long romantic walk in the boulevard coupled with all the sweets you can eat? Now, that is heaven. 🙂
Sans Rival Cakes and Pastries

Main branch
  #3 San Jose St., Dumaguete City
  (035) 225-4440
  Open daily from 9am to 7pm
Robinson's branch
  Ground Floor Robinson's Place Dumaguete
  Dumaguete Business Park and IT Plaza, Dumaguete City
  (035)226-3506
  Open daily from 10am to 8pm