6962969664961057
Fagioli is a coffee shop here in Davao which originated from General Santos City. It opened sometime last year but I was able to visit it just recently after coming back from Manila. It's located across Damosa Gateway just in front of one of the known call centers here in the city. As you enter the place you will easily notice the inviting interiors. It is homey and relaxing at the same time. Wooden accents and furniture give the place a natural touch. It is also a wi-fi hotspot and it doesn't charge fees for plugging.
Fagioli serves Italian coffee, food and wine. It has a wide selection of hot and cold coffee, from brewed to iced including everyone's favorite, frappucinos! Yummy! There are also hot and cold teas. One fun detail is that their hot tea comes in a cool tea pot with honey on the side and another is that their iced teas come in different flavors; a must-try is the green iced tea(60php). Other beverages such as lemonades and sodas are also available.
Now, down to the part that I love the most— the food! If you want to have your day's fill, you could choose to have one of their delicious pastas, there are over 10 sauces to choose from. My current favorite is Sicily(140php), a cream-based pasta topped with mushrooms and if you're still hungry add a panini on the side to complete the meal. It would truly leave you full for the rest of the day. Of course, there should still be room for dessert. I tried the blueberry cheesecake and the brownie mink(95php), I liked the latter better, it's a hot rich chocolate brownie topped with vanilla ice cream. After tasting it, I truly agreed that indeed no meal is truly complete without dessert.
The Fagioli experience is a memorable and fun one and I'm sure I'll drop by again sometime soon. Oh and if you do visit this place check out the restroom before you go. You'll be in for a nice surprise. 🙂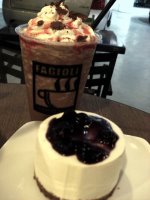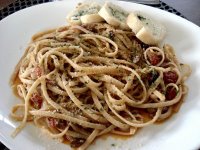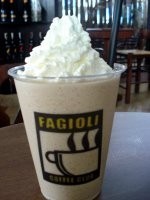 Contact Details:
 Beside Kia Motors, Lanang, Davao City
 (082) 3051168
 Open from Mon-Thurs 8am-12mn
 Fri-Sat 8am-1am
 Sunday 3pm-12mn

Disclosure: Nothing to disclose, we paid for our meals.